Once Again the US Dollar Needs to be Rescued…
Like a rich old man that is sick and dying, at a certain age He must die... but because of wealth, anything is done by the medical team to save Him. Medication after medication, high tech equipment is brought upon – for a while He survives – but in the end, death will come…
So is the faith of the US$ (and automatically all the paper money in the world currently); since the sub-prime mortgage crisis one year – several action is done by the monetary authority of the United States – The Fed. So far the medication is called lowering interest rate; but even after lowering the interest rate several times in past few months, the US$ is still not rescued. The US$ index declined to its lowest point in the past week.
Yesterday at local time or last night Jakarta time; 'The Medical Team' the Fed is more creative in searching the 'new cure' in its efforts to save its US Dollar. It is so new, the name of this 'new cure' is never heard of before by the market – TSLF abbreviation of Term Securities Lending Facility.
TLSF is just another form of a loan facility of The Fed for banks that need help with liquidity. The difference is all this time the loan is given in the form an overnight lending; TLSF is given in one month. The number is outrageous, reaching US$200 billion !!
It doesn't stop here, The Fed is also involving other Central Banks to help out the 'sick old man', they are Bank of Canada, Bank of England, European Central Bank and not to miss out, Swiss National Bank.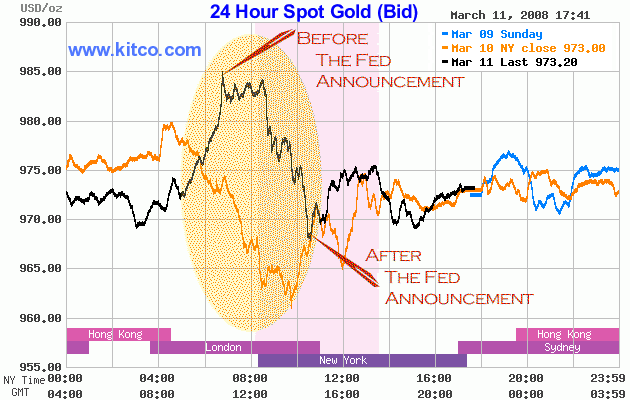 Are those extra steps will save the US$? Doesn't look like it. Please see the graph in the side; the international gold price is getting ready to sky rocket before the Fed announce its move. After the announcement, the extraordinary steps taken can 'just' return the gold price at previous closing price.
The therapy by 'the Medical Team' of the Fed as usual can only reduce the symptoms of the 'sickness' of US Dollar, but never really cure.
If the following days, the oil price remains high like the oil price this morning; US$108.67 – at the time I write this article; then the US$ will look 'sick' again. Following average 9 year statistics, at a US$108.67 oil price; gold price should be in the range of US$1,080.00/troy oz and Dinar price should be in the range of Rp1,400,000/Dinar!
Actually I wanted to write a lot today, but save it for next time. This article is written on my way from Jakarta to Bandung and now I have arrived in Bandung – Alhamdulillah, technology allows me to access all the research materials I need, even when traveling. Wassalam.